History and evolution of the model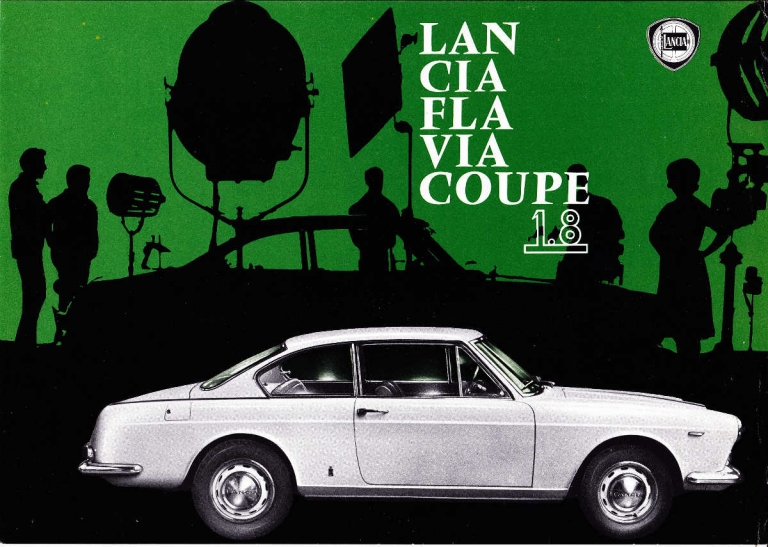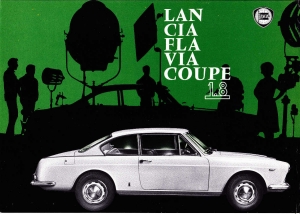 Presented at the Turin Motor Show in the autumn of 1960, the Lancia Flavia sedan completes the Lancia range between the small Appia (1100 cm3) and the large Flaminia (6 cylinders, 2.5 litres). The numerous innovations that accompany the presentation of the model are due to the engineer Antonio Fessia, technical director of the brand since 1955; the Flavia allows him to implement his design of the automobile. An Italian apostle of the front-wheel drive since its 1947 Cemsa-Caproni prototype, the Flavia is not only a front-wheel drive, but its cantilevered engine is unprecedented: It's a four-cylinder flat all light alloy and liquid-cooled. The braking, with four assisted discs with double circuit, is also very efficient. In the spring of 1962, the Pininfarina 2+2 coupé was added to the sedan in a very square style. The typical front of the sedan, with its pro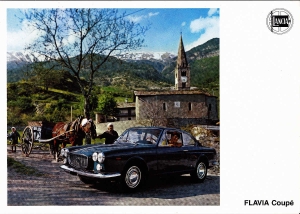 minent grille and double headlights is taken back with some alterations, while the treatment of the rear part reminds strongly of that of the Ferrari 250 GTE (of the same bodybuilder), with the exception of optical blocks that are horizontal on the Lancia. The Flavia coupé thus wins its name of «Ferrari of the poor», nickname more rewarding than really pejorative.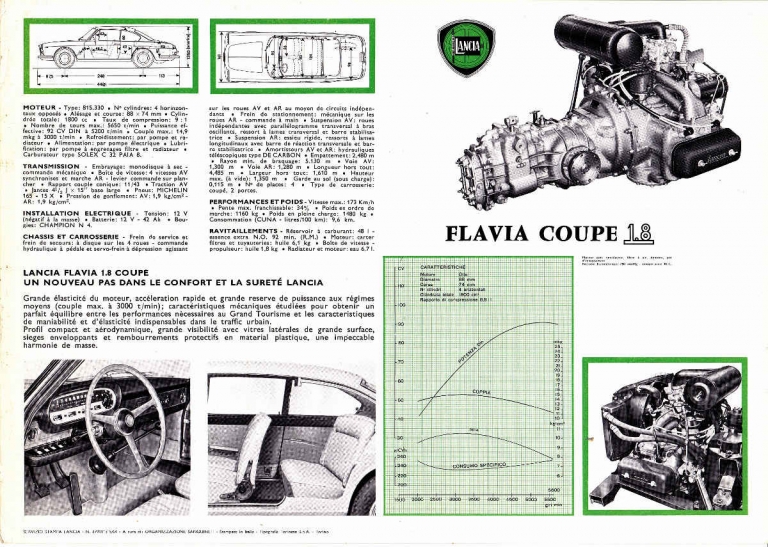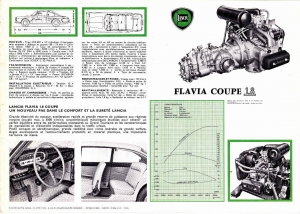 The coupe is first launched with a 1500 cm3 engine powered by two Solex carburetors (90 hp). This Solex installation proved difficult to fix and was quickly abandoned in 1963. As of this year, the engine has increased its displacement to 1800 cm3. The maximum power (92 hp), torque and flexibility are thus improved. The change of engine is accompanied by the introduction of a new dashboard with round dials on a wooden background, in place of the ribbon tachometer of the previous model. An indirect Kugelfischer injection will also be proposed from 1965 (102 hp), it will allow a significant drop in petrol consumption. The Pininfarina Coupe will be produced until 1969 before being replaced by the Flavia 2000 with a rejuvenated bodyshell. A convertible has also been marketed with a Vignale bodyshell designed by Michelotti as well as a Sport Zagato coupe with the least confusing lines. Let us also note that the modern technical design of the Lancia will also shine in competition, so the Flavia coupe will won the Rallye des Fleurs (ancestor of the Rally de San Remo) in 1963, the Alpine criterium and the Rallye de Lorraine in 1964. Second place at the Monte Carlo Rally 1966 is also a remarkable feat.
The history of our Lancia Flavia Coupé
Our Lancia Flavia Coupé came out of the Lancia factories in 1966 and is equipped with the 1.8 liters carburettor. It spent the first part of its life in its home country before arriving in France in the 1980s. Its original color was brown but its previous owner decided to paint it in a «Rosso Ferrari» which better highlights the lines of the bodyshell and blends beautifully with the rare yellow optics.
Cylinder (cm3) : 1 800
Alimentation : Carburetor
Power (ch) : 92
Max speed (km/h) : 173
Number of seats : 5
How to visit Paris in a Lancia Flavia?
You have to contact us by phone at + 33 6 58 19 25 58 or below.
From 129 euros for 1 hour tour!