History and evolution of the model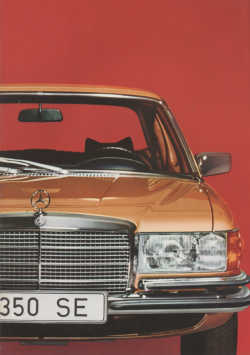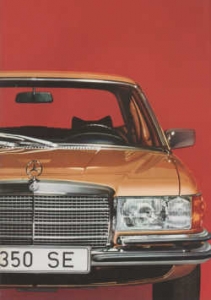 The new generation of Mercedes S-Class (S for «sonderklasse», exceptional class in German) began to be developed in 1966. It must succeed the W108 designed by Paul Bracq. The bodyshell, completed in December 1969, has more aggressive lines and resolutely more modern than its predecessor. Like the SL W107, released a year earlier, the rear lights are streaked (anti-fouling) and the front headlamps have a more sporty design. The Mercedes W116 is the latest achievement of Friedrich Geiger who began his career with the Stuttgart manufacturer with the 500K in 1933!
The luxury sedan is presented at the Paris Auto Show in September 1972, 3 engines are first available: two 6 cylinders in line 280 S (160 hp) and 280 SE (185 hp) respectively with carburettor and injection and an 8 cylinder 350 SE (200 hp). At the beginning of 1973, the range is enriched by a larger V8, the 450 SE (225 hp), also available in 450 SEL long version (+10 cm for the benefit of rear passengers). This high-end version receives a velvet or leather interior in series depending on the buyer's choice.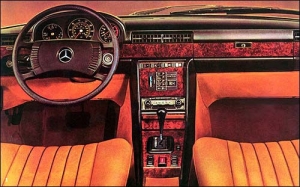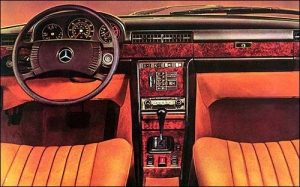 However it is in 1975 that is introduced the real jewel of the range, the 450 SEL 6.9, worthy heiress of the 300 SEL 6.3. It gets the biggest engine ever on a post-war Mercedes. It also ensures royal comfort thanks to a hydropneumatic suspension. The Mercedes W116 will also be the first S clas to receive a Diesel engine. The 300 SD is only available on the American market from 1977 and develops only 110 horses (165 km/h).
The Mercedes S-class W116 also marks several advances in the field of safety, it will be the first production car to be able to receive, as an option, an ABS system from 1978. It also receives deformable areas at the front and rear as well as a fuel tank placed above the rear wheel axle for better protection. The Mercedes W116 will be produced until 1979 at 473,035 units.
The history of our Mercedes S Class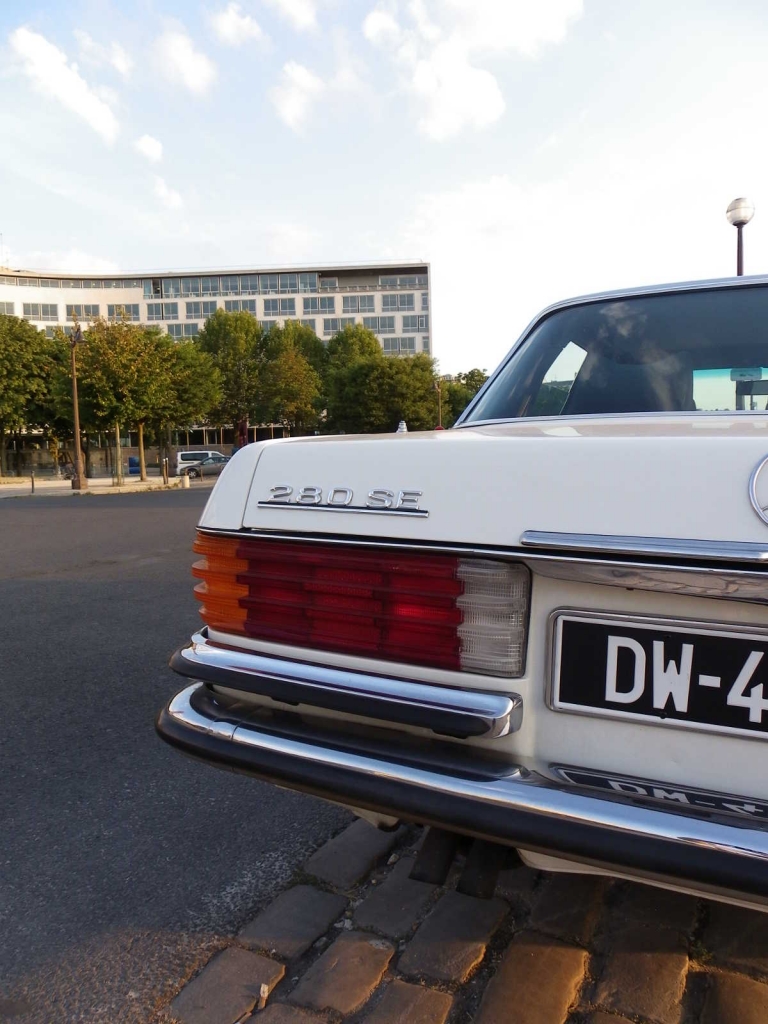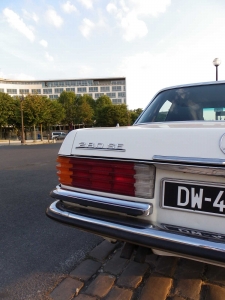 Purchased from its first owner, our Mercedes S Class 280 SE W116 was first registered in 1977. With a rare state of conservation, it only totals 156,000 kilometres of origin. It is distinguished by a very rich equipment endowment for the time: 4 electric windows, central locking, air conditioning, additional reading lamps at the rear, cruise control, Becker radio with electric antenna!
This luxurious equipment comes with a blue interior perfectly matched with the white paint of the bodyshell. The velvet upholstery will ensure excellent comfort during your walk in Paris. The wood is also abundant in the interior.
Cylinder (cm3) : 2 746
Alimentation : Injection
Power (ch) : 185
Max speed (km/h) : 200
Number of seats : 5